Best Safety Tech & Systems For Teen Drivers | Mercedes, TX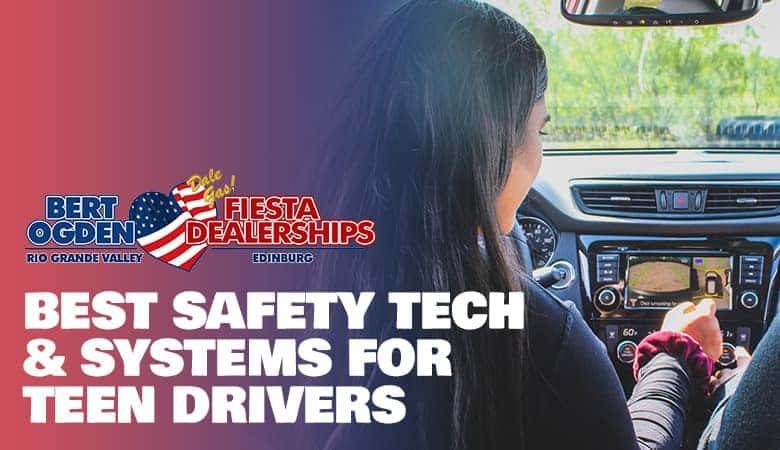 If you are in the market for a new family vehicle and know that you have a teenager who will soon be of driving age, it would be smart to pick a vehicle (likely a sedan or an SUV) that comes equipped with safety technologies aimed at teenage drivers. While various automakers have technologies targeted at teen driver safety, the most comprehensive is General Motors with the Teen Driver technology, which you can get on vehicles from Chevrolet and GMC.
What is Teen Driver?
Teen Driver allows you as a parent to coach your teen as a new driver — even when you cannot physically be in the car with your teen. Some of the features include Buckle to Drive, which requires teen drivers to wear their seatbelts for the vehicle to move; an audio muting function (with volume limits); and even speed limit alerts. Parents can also get an in-vehicle report card to see how their teens are driving and offer coaching points. You can find plenty of vehicles at Bert Ogden Auto Outlet in Mercedes, Texas, that include Teen Driver, including the Chevy Spark, Chevy Trax, GMC Terrain, Chevy Equinox, and Buick Encore.
Are there other safety technologies for teen drivers?
Of course, General Motors does not corner the market on teen driving technology. Ford, for example, launched the MyKey® system that allows parents to activate certain safety settings for teen drivers, like caps on speed limits and a seatbelt reminder (called "Belt-Minder"); look for it on a range of Ford vehicles, including the Ford Fiesta. Hyundai Blue Link has parental settings as well in models like the Sonata; similarly, the UVO eServices from Kia allow parents to set limits in models like the sporty Stinger.
Why does it matter?
When buying a used vehicle, is it really that important as a parent to consider whether a vehicle has teen driving technology? After all, you probably learned to drive without such technology, and you're still here.
That may be true, but that isn't the case for everybody. Teen driving technology saves countless teen lives each year. Case in point: Only three out of five high school students wears a seatbelt when riding with someone else; technology that requires teens wear seatbelts when parents aren't there to enforce it can help prevent the worst from happening in a collision.
Also noteworthy: Teens are more likely than older drivers to speed while 93 percent play music too loudly, which can be a distraction behind the wheel. Once again, this proves the importance of features of some of the industry's best teen driving technologies.
Other safety technologies to look out for
When shopping used, it's important that you consider vehicles' safety scores from the Insurance Institute for Highway Safety and the National Highway Traffic Safety Administration, all of which you can find online. In addition, in models from the last decade or so, you should be looking to see if they have active driver-assist safety technologies, like a rearview camera, blind spot monitoring, lane changing assist, forward automatic braking, intelligent cruise control, and rear cross traffic alert.
For parents of younger children
If you are far off from having a teen driver, focus less on teen driving technologies and more on safety features designed for children. Does the vehicle have child safety locks? What about a LATCH (Lower Anchors and Tethers for Children) system for safely buckling in your child's car seat? If you have a car seat you are satisfied with, bring it along to our dealership in Mercedes, Texas, as part of the test drive. Determine if the car seat is compatible and how easy it is to install.
---
Get a closer look at the expansive inventory of safety-focused models at Bert Ogden Auto Outlet in Mercedes, Texas.