Light-Duty vs Heavy-Duty Trucks | Mercedes, TX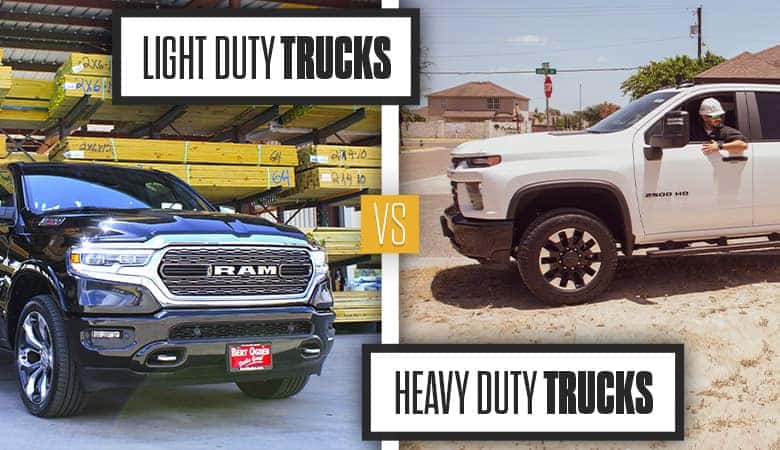 Pickup trucks are among the longest-lasting vehicles on the market, which makes them a popular choice for those buying used. Even if you are buying a used truck that is five or even 10 years old, you can expect it to last another decade-plus, as long as you take good care of it.
We have plenty of used trucks at Bert Ogden Auto Outlet in Mercedes, Texas — both light-duty pickups and heavy-duty pickups. But how do you know which is right for you?
All about light-duty pickup trucks
Light-duty pickup trucks are the trucks that most drivers gravitate toward. They are larger than midsize pickups but not so massive that they aren't practical for daily commutes. Some of the most popular light-duty pickup trucks on the market include the Ford F-150, the Silverado 1500, the Ram 1500, the Toyota Tundra, and the Nissan TITAN.
Drivers often find that light-duty pickup trucks meet most of their needs. They are increasingly fuel-efficient, offer plenty of space (especially in extended cab models) for small families, and are packed with innovative safety and connectivity technologies. Used light-duty pickup trucks in recent years have upped their game in terms of bed durability and functionality, as well as towing technology.
It's not uncommon nowadays to find a lightly used pickup truck that achieves up to 30 mpg on the highway. Depending on the powertrain, you can expect anywhere from 200 to 400 horsepower (or more) and towing capacity of 12,000 or more pounds. Payload capacities tend to top out at about 3,000 pounds.
All about heavy-duty pickup trucks
Heavy-duty pickup trucks serve a more specific type of truck buyer. These massive pickups (often called HDs) are ideal for those who work on tough jobsites (perhaps as farmers, ranchers, contractors, and construction workers) or who regularly travel to national parks and other outdoor locations with a massive trailer or boat in tow.
Why? Because, though not very efficient, heavy-duty pickup trucks offer pure muscle. Depending on how massive the truck is and the engine technology under the hood, you can expect anywhere from 15,000 to 40,000 pounds of pure towing capacity. Payload capacities often max out around 6,000 pounds.
These trucks are so massive that parking and maneuverability can be challenging. Get a heavy-duty pickup if your focus is primarily on hard jobs and heavy towing. Stick with a light-duty if you don't have the need for insane towing capacity and need the flexibility of something smaller for your daily errands.
Some of the most popular heavy-duty pickup trucks on the market include the Ford F-250 and F-350 Super Duty pickups, the Chevrolet Silverado 2500HD and 3500HD, and the Ram 2500 and 3500.
What to look for in a used truck
Regardless of whether you opt for a light-duty or a heavy-duty pickup truck, here is what you should look for when purchasing a used pickup truck:
Number of miles. Research when most truck drivers need to replace engines or transmissions for high-mileage trucks from the year and brand you are purchasing. If the truck is getting close in miles, factor that into your budget and change up your offer accordingly.
Towing capacity. If you have a specific trailer, RV, or boat that you intend to haul, make sure that any pickup truck you are considering is properly rated to haul that load.
Body rust. Because trucks stay on roadways so much longer than other vehicles, they are more likely to have rust when buying used, especially in trucks that have been around for several decades. Do a thorough investigation for rust before buying.
At Bert Ogden Auto Outlet in Mercedes, Texas, we have many high-quality trucks in our inventory. Stop by and check out our truck options!