Trucks vs. SUVs | Mercedes, TX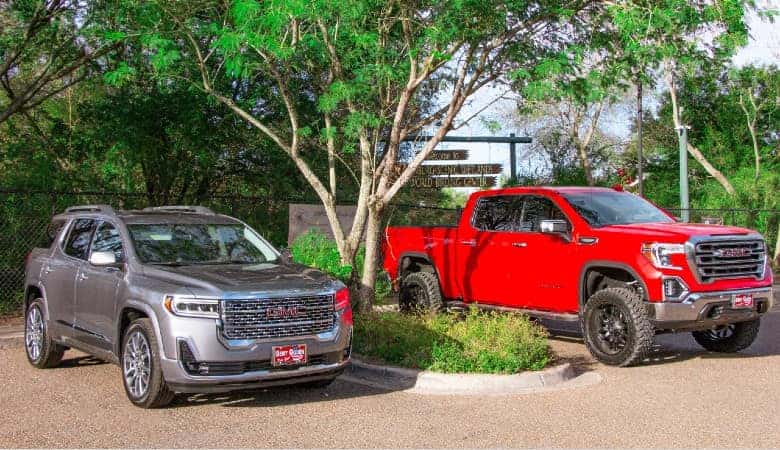 When it comes to safety, performance, and interior space, there are no better vehicles on the market than pickup trucks and SUVs. These can, however, be exorbitantly expensive, which is why these long-lasting, durable, highly reliable vehicles make so much sense to buy used. Are you looking for a used truck or SUV in the Mercedes, Texas, area? Bert Ogden Auto Outlet carries a wide inventory of trucks and SUVs, including the Chevrolet Silverado, GMC Sierra, Chevrolet Equinox, GMC Acadia, and Nissan Rogue.
Having trouble deciding between a truck and an SUV? Below we discuss the advantages of each.
Advantages Of Trucks
Trucks, whether midsize or full-size, beat out SUVs primarily in terms of performance and capability. If towing boats, trailers, or even RVs is your goal, go with a powerful full-size pickup. Midsize pickup trucks are also the preferred choice over midsize SUVs for hauling smaller items.
Because of their beds, trucks are also better for transporting tools to a worksite or outdoor equipment on your next outdoor adventure, whether camping, kayaking, fishing, or hunting. Plus, you can get used trucks now with cabins just as spacious as two-row SUVs, meaning they are great family vehicles.
Depending on the engine, trucks can beat out SUVs on fuel economy.
Advantages of SUVs
In the realm of midsize vehicles, SUVs hold the upper hand on safety, usually offered with a more comprehensive suite of safety technologies. While pickups may offer more towing power, SUVs typically are not slouches; they can tow considerable weights when properly equipped.
SUVs, especially on the larger end of the spectrum, offer unparalleled interior space, which is ideal for parents with lots of kids or multigenerational families who regularly travel together.
---
Discover what used model, a truck or SUV, is right for you at Bert Ogden Auto Outlet in Mercedes, Texas.