Which Chevy Truck Is Right For You? | Mercedes, TX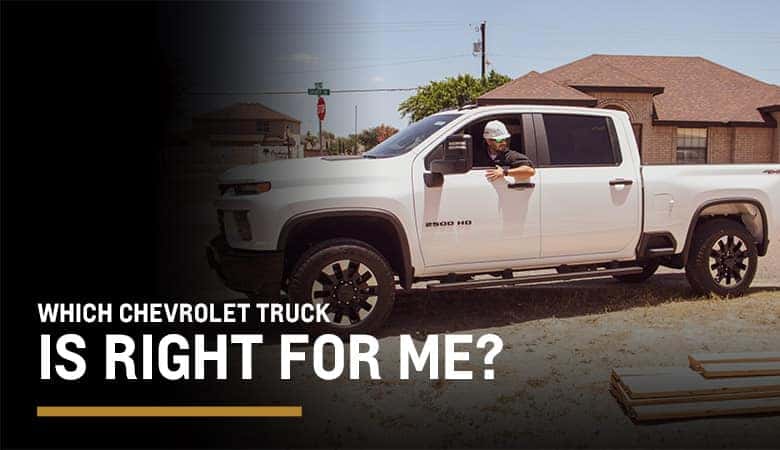 Without a doubt, Chevrolet manufacturers the most stylish, versatile, and dependable trucks on the market. If you are a truck fan, the question isn't which brand of truck to buy — it's Chevy; that's an easy one. The tough question is deciding which Chevrolet truck is right from you.
The Chevrolet Colorado, the Chevrolet Silverado 1500, and the Chevrolet Silverado HD all have major pros. Deciding which to buy is often about your personal needs: your budget and how you plan to drive it.
You can visit Bert Ogden Auto Outlet in Mercedes, Texas, to test-drive each of the trucks across a variety of model years to see which is right for you. You can also do your homework ahead of your visit with our guide below:
Chevrolet Colorado
The Chevrolet Colorado is a great choice for drivers on a budget who prioritize fuel economy but still need the convenience of a pickup bed and some hearty towing power.
The Chevrolet Colorado returned to the market in the mid-2010s, quickly making headlines as the most fuel-efficient pickup truck on the market. In the past several years, it has been offered with a diesel engine that was simultaneously more efficient and more potent than the engines in competitors like the Toyota Tacoma and Nissan Frontier. You can get the Colorado in a range of eye-catching colors, including Sand Dune Metallic, Bright Blue Metallic, and Crush. Depending on model year, you can also find an off-road variant of the Colorado, which is great if you like to take on the wild roads of Big Bend and Guadalupe Mountains National Park.
Chevrolet Silverado 1500
The Chevrolet Silverado 1500 is a great choice for everyday truck drivers who prioritize reliability, convenience, comfort, technology, and safety; this is the most popular truck in the Chevy lineup.
You can never go wrong with the Chevrolet Silverado 1500, which holds the title of the most reliable pickup truck in America, with more Silverados still on roadways over the last three decades. Most recently, the Chevy Silverado 1500 made headlines for adding a diesel engine to the lineup, but even in older models, you can find a potent engine that balances performance with fuel economy. Trucks in recent model years have cranked out up to 420 horsepower and offered up to 13,300 pounds of towing capacity, when properly equipped. Over the last few years, Chevy has also expanded on the versatile in-vehicle towing technologies, like the 15 available camera views, in-vehicle Trailering System, and Trailer Sway Control. Another recent innovation in the Silverado 1500 is the Durabed, which you can find even if you go back a few model years; the Durabed offers best-in-class pickup bed cargo volume, more standard tie-downs, and the industry's first power-up/-down tailgate.
Chevrolet Silverado HD
The Chevrolet Silverado HD is great choice for drivers conducting business (landscaping, farming, construction, etc.) that calls for heavy-duty towing and durable pickup beds; also ideal for families with large boats or RVs.
If you need raw towing power, your best bet is a heavy-duty pickup truck like the Chevrolet Silverado 2500HD or the Chevrolet Silverado 3500HD. These trucks are designed for towing incredible loads. In fact, the most recent Chevrolet Silverado 3500HD can tow up to 36,000 pounds when properly equipped and serves up 910 lb-ft of torque. Like recent Silverado 1500 pickups, the Silverado 2500HD and 3500HD models from recent years have benefited from a wide range of engines, towing technologies, and the Durabed. That makes heavy-duty Silverado models the ultimate work truck. But don't let the Silverado HD models' hard work-focused attitude fool you; these heavy-duty trucks also come packed with safety technologies and leading infotainment features like Apple CarPlay® and Android Auto™ over the last several model years.
---
Get a closer look at the Chevrolet truck lineup at Bert Ogden Auto Outlet in Mercedes, Texas.